Pizza and Calzone Liege Waffle Recipe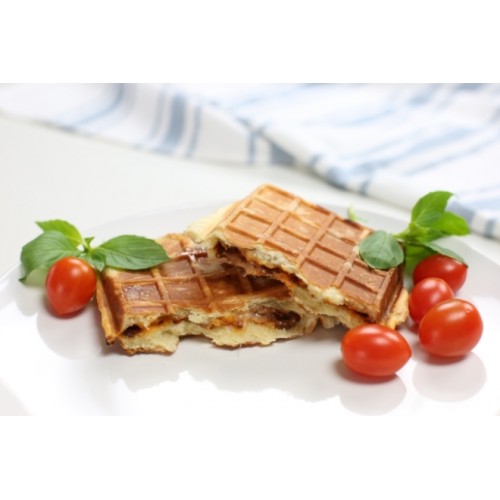 INGREDIENTS
Serving Size: 9 Pizza/Calzone Liege Waffle
Tomato Sauce
10 tbsp tomato paste
3/4 cup water
3 tbsp oregano
1 tbsp parsley
1 tbsp dill
1 tsp black pepper
1/s tsp granulated garlic
Liege Waffle Dough
There are two temptations no foodie can resist—pizza and waffles. Let's face it, who could possibly say no to either of these European food sensations. We're taking things to the next level and combining the best of both worlds to create mouthwatering Liège waffle pizzas and calzones. The result is a seriously delectable blend of sweet Belgian and savory Italian cuisine.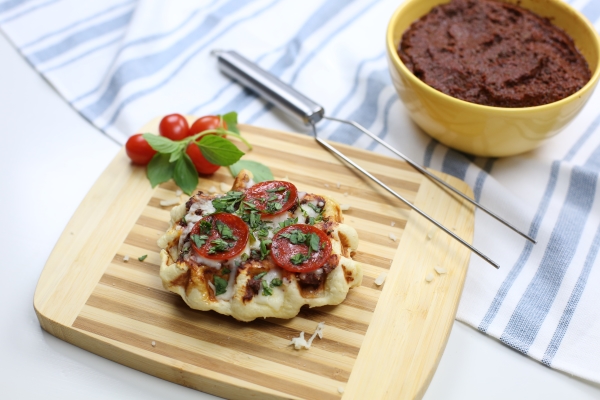 DIRECTIONS
Preparing Tomatoe Sauce
Mix oregano, parsley, dill, black pepper, and granulated garlic into tomato paste.

Gradually pour water into the mix and stir well.
Making Liege Waffle Dough
Combine softened butter and hot water in mixer. Add waffle mix, egg and yeast. Stir well. Knead to form sticky dough.

Cover dough and let rest for 2 to 3 hours.

Gently fold Belgian pearl sugar into dough. Divide dough into 9 portions. Cover and allow dough to rest for 15 minutes.

Baking Pizza Liege Waffle
Preheat Liège waffle iron (360°F or 182°C). Flatten dough balls slightly and place on the iron. Bake for 2 to 4 minutes until light brown (3/4 through).




Remove waffle from waffle iron and add tomato sauce, mozzarella cheese, and pepperoni toppings.




Bake Liège waffle pizza for an additional 2 minutes in a countertop oven (450°F or 232°C) until cheese melted. Top off with fresh chopped parsley or basil leaves. Enjoy!

Baking Calzone Liege Waffle
Use flour to roll out dough ball.




Add tomato sauce, mozzarella cheese, and pepperoni fillings. Fold dough over to form pocket. Use back of wet fork to seal pocket close.




Bake Liège waffle calzone for 2-4 minutes until golden. Enjoy!