Liege Waffle Recipe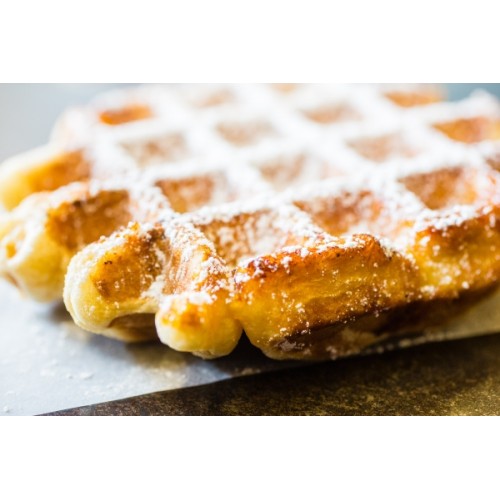 INGREDIENTS
Serving Size: 12 Liege Waffles
You've probably fallen in love with them at a favorite cafe or a popular food truck. Golden in color and delectable in taste, Liège waffles are out of this world. Here's how to bake them at home with a surprisingly simple recipe. Your family and friends will swoon!
Traditional Liege waffles have been enjoyed in Belgium for centuries. Liege waffles are baked from a dough rather than a batter to give you a seriously delicious, full-flavored waffle experience. These Belgian waffles are a little different than your run-of-the-mill waffle because Belgian pearl sugar is the secret and the star of our recipe. The sugar pearls are studded throughout the waffle and give every bite a crunchy, caramelized sensation.
We've tested and tweaked our Liege waffle recipe to perfection, so you're destined for delicious results. You and your loved are sure to savor these homemade Liege waffles. Enjoy them as they are or top with powdered sugar, whipped cream, ripe berries, ice cream, even a drizzle of nutella!
DIRECTIONS
Gently heat milk to lukewarm temperature. Pour milk into a bowl and add

yeast

. Allow several minutes for the

yeast

to dissolve.

Combine the flour, eggs, brown sugar, vanilla extract and salt in bowl.

Using your mixer's dough hook, mix all the previous ingredients to form a dough.

Add room temperature butter to dough. The dough should now have a sticky texture.

Cover the dough in a bowl and let it rest for at least 2 to 3 hours. This will allow the dough's volume to double.

Once risen, gently mix to allow the air to be released from within the dough. Add Waffle Pantry

Belgian pearl sugar

to the dough.


Divide the dough into 12 roughly palm-sized balls and allow them to rest for 15 minutes.




Pre-heat

waffle iron

and add each individual dough ball to the machine once it has reached cooking temperature. Monitor for doneness and preferred golden color.

Voila, your waffles are ready! The optimal time to serve your waffles is straight from the waffle iron. Enjoy!