Chouquette Recipe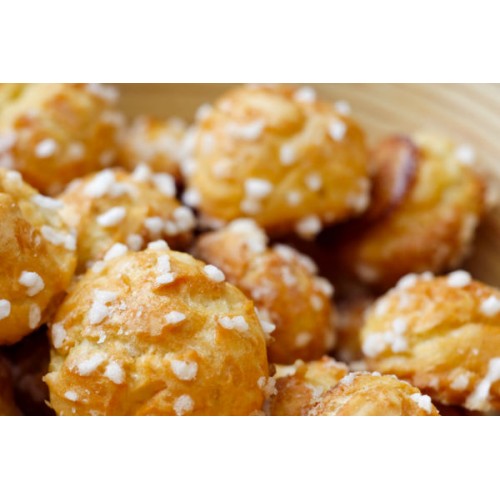 INSTRUCTIONS
Yields 36 pieces
1

cup

water

8

tablespoons

unsalted butter

3

tablespoons

sugar

1/2

teaspoon

salt

1/2

vanilla bean

halved lengthwise

1

cup

French T55 pastry flour

4 to 5

large

eggs

1

teaspoon

orange-flower water

(optional)
1/3 cup of

Belgian Pearl Sugar
DIRECTIONS
Preheat the oven to 425°F (220°C). Line a cookie sheet with parchment paper.

In a large saucepan, bring the water, the butter, sugar, salt, and vanilla bean to a boil over medium-high heat. Immediately remove the pan from the heat, and using a wooden spoon, add the flour all at once, stirring vigorously until all the flour is incorporated and absorbed, about 30 seconds. Return the pan to the heat and, continuing to stir, cook until some of the moisture evaporates and the mixture begins to dry out a little, about 30 seconds. Remove the vanilla bean.

Scrape the mixture into the bowl of a mixer fitted with the paddle attachment. Stir on medium speed for 20 seconds or so to allow some of the steam and heat to escape. With the mixer on low, add 3 of the eggs, one at a time, stopping after each addition to scrape down the sides of the bowl. Mix until the dough is smooth and glossy and the eggs are completely incorporated. The dough should be thick but still fall slowly and steadily from the paddle when you lift it out of the bowl. If the dough still clings to the paddle, add 1 more egg and mix until incorporated. Stir in the orange-flower water, if using.

Using a pastry bag fitted with a large (1/2-inch) plain tip, pipe 1-inch dough "kisses," spaced 2 inches apart to allow for expansion onto the prepared cookie sheet (see Note).

In a small bowl, beat the remaining egg with 1 1/2 teaspoons water. Brush the tops of the dough with the egg wash and sprinkle with the

Belgian pearl sugar

.

Bake for 15 minutes, then reduce the heat to 375°F (190°C) and bake until the chouquettes are puffed up, light golden brown, and have no more yellow pastry color showing through, about 20 minutes more. (Try not to open the oven door because a decrease in oven heat will cause the chouquettes to deflate.) Remove from the oven and let cool on the cookie sheet.