Cinnamon Rolls with Pearl Sugar Recipe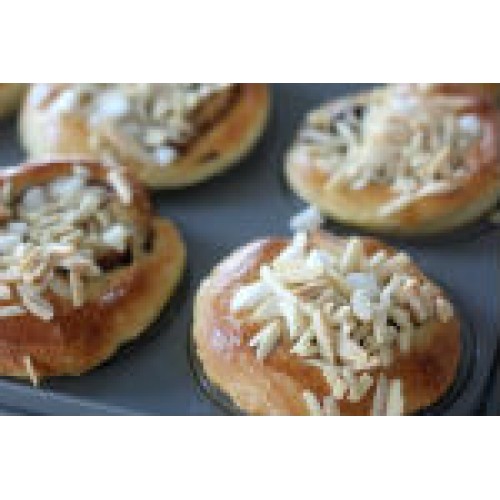 INGRIDIENTS
1 cup milk
3 tablespoons unsalted butter, cut into pieces
3 1/2 cups

French T45 flour

1/2 cup sugar
1 large egg
1 teaspoon salt
2 1/4 teaspoons rapid-rise or instant

yeast

pan spray or butter (for greasing pans)
1/2 stick (4 TBSP) unsalted butter (room temperature)
3/4 cup brown sugar
1 tbsp ground cinnamon
large handful of

Belgian Pearl Sugar

(about 1/3 cup more or less)
1/2 cup chopped dark or bittersweet chocolate
egg wash (1 egg whisked with 1 TBSP water)
1/2 cup sliced almonds
1/4 cup

Belgian Pearl Sugar
DIRECTIONS
Put the milk in a saucepan over medium heat, and scald. This should take about 4 minutes, until steam starts rising off the milk. Remove the milk from the heat and add the pieces of butter to melt and combine. Allow to cool to about 110 degrees F. You do not want it hot because it will cook the egg and kill the

yeast

.

Place all of the other dough ingredients (flour, sugar, egg, salt,

yeast

) in the bowl of a stand mixer fitted with the dough hook and turn on low speed. Slowly pour the warm milk and butter mixture into the bowl. Beat on low speed for about 5 minutes, stopping occasionally to scrape down sides of bowl, until flour is absorbed and dough is smooth and quite sticky. The dough will look too wet, but do not add more flour at this point.

Lightly grease a large bowl and transfer the dough to bowl. Cover bowl with a clean towel or loosely with plastic wrap. Let dough rise in warm area until doubled in volume, about 2 hours.

Punch down dough and transfer to floured work surface. Roll out to about a 15×11-inch rectangle. You can add a bit of flour at this point if needed to prevent sticking to the bench and rolling pin.

Spread butter evenly over dough, leaving 1/2-inch border. Rub in brown sugar, sprinkle cinnamon, and evenly distribute the

pearl sugar

and chocolate pieces. Gently press the sugar and chocolate into the dough slightly so that they stick.

Starting at 1 long side, roll dough into log, pinching gently to keep it rolled up. With seam side down, cut dough crosswise with thin sharp knife into 12 equal slices.

Butter a standard 12-cup muffin tin or a baking dish. Place one roll in each cup or line the rolls up in the baking dish slightly touching each other. Let dough rise in warm area until almost doubled in volume, 45 minutes. Brush each roll with egg wash and sprinkle with almonds and

Belgian pearl sugar

.

Meanwhile, preheat the oven to 350°F. Place the pan of rolls on a baking sheet and bake at 350°F until tops are golden, about 20-25 minutes. Remove from oven, let cool briefly, then turn out onto cooling rack.
NOTE: If prepping the night before, allow the rolls to proof in the pan for about 30 minutes then cover loosely with plastic wrap and refrigerate. 2 hours before you want to serve the rolls, pull them out of the refrigerator and allow them to come to room temp and proof for about an hour and a half. Then brush with egg wash, sprinkle with almonds and Belgian Pearl Sugar, and bake at 350°F for 20-25 minutes and serve!
Image and Recipe courtesy of: Baker Bettie