Italian Colomba Pasquale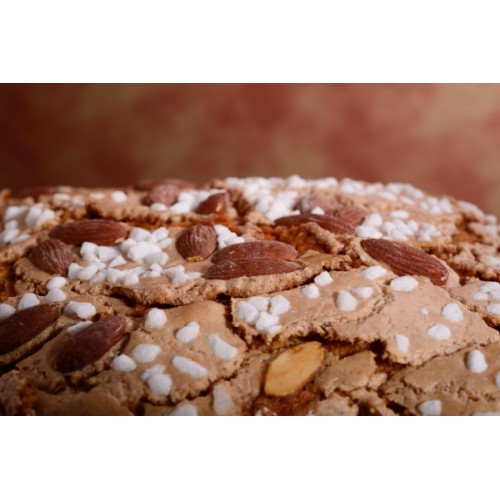 INGREDIENTS
Makes one loaf
Biga
1 tablespoon

yeast

1 cup water
zest of 1 orange
1/2 cup bread flour
Dough
1/2 tablespoon

yeast

1 cup milk
2 1/2 cups all-purpose flour
1 tsp salt
8 oz butter (softened, not melted)
3 egg yolks
1 ¼ cup sugar
1/2 cup candied orange peel
1 teaspoon vanilla
2 tablespoons (1/4 ounce) orange zest
Topping
1 egg white
1/3 cup (1 1/4 ounces) almond flour (or finely ground almonds, blanched or unblanched)
1/4 cup (1 3/4 ounces) granulated sugar
2 tablespoons

Italian pearl sugar

2 tablespoons sliced almonds
DIRECTIONS
Dissolve yeast in warm water (110F) and let it rest for 5 minutes. Add 1 tablespoon of sugar, the zest of an orange and ½ cup of the flour. Mix all the ingredients together and let it rest overnight (covered with plastic wrap) in the refrigerator for 24 hours.

The next day, dissolve the other

yeast

in warm milk (110F) and let it rest for 5 minutes. Add the biga, the flour and knead the dough for 5 minutes. Add the rest of the sugar and eggs and continue kneading until the dough is soft and very elastic (15 minutes). Add the soften butter at room temperature (NOT MELTED) little by little while kneading. Add the chocolate and the salt and continue kneading until the dough is soft, shiny and elastic (10 - 15 minutes). Add the orange zest and candied peel and mix until combined.

Cover the bowl with plastic wrap and place it in a warm spot (85°F is perfect) to let the dough rise for 2 1/2 to 3 1/2 hours. It should be doubled in size.

Turn the dough out onto a lightly greased work surface and deflate it by punching it down. Divide the dough in half, and form one half into a log about 12 inches long. Form the other half into a slightly shorter and fatter log. Place the longest log lengthwise on a parchment-lined baking sheet or then lay the shorter log across it, forming a cross. Cover it with lightly greased plastic wrap, and let it rest until double in size; this will take at least another 3 hours.

Just before the bread is ready to be baked, beat the egg white until it's foamy and whisk in the ground almonds and sugar.

Spread this almond mixture on the risen bread. Be careful, as the dough is delicate and could deflate. Sprinkle with

Italian pearl sugar

and sliced almonds.

Bake the bread in a preheated 350°F oven for 45 minutes, until lightly browned and an instant-read thermometer inserted into the center of a loaf reads 195°F. Remove the bread from the oven, and transfer it to a wire rack to cool.