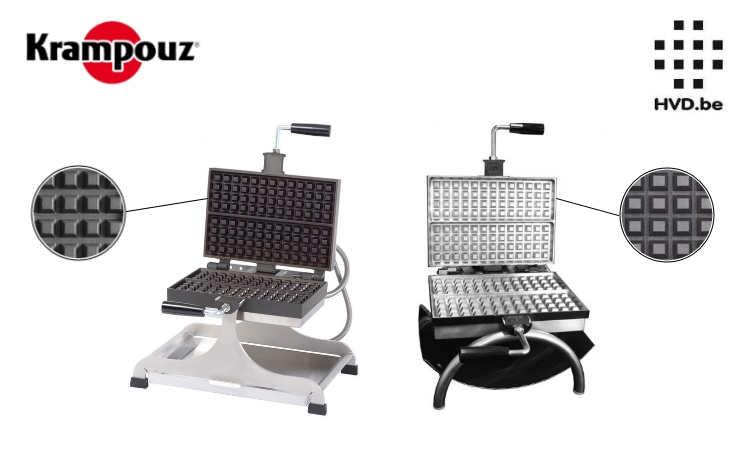 Starting a new Liege waffle business or adding Liege waffles to your existing menu can be quite a boon. An important investment that you'll face will be choosing the right waffle iron for your needs. Given the limited amount of information on commercial Liege waffle irons, we've assessed the top criteria to evaluate the best Liege waffle irons to help your business grow.
Krampouz vs HVD
There are two main commercial Liege waffle iron manufacturers in the world. The first one is Krampouz, a commercial appliance manufacturer based in France and in business since 1949. The second manufacturer is HVD, a Belgian manufacturer founded in 1929. Both are established brands and have come to earn a strong reputation among professional chefs worldwide over the years. The key difference between the two brands is their respective manufacturing methods (more on this in a moment).
The crucial part of any commercial Liege waffle maker is its cast iron plates. Cast iron has the physical property of containing heat efficiently, which helps to fully caramelize the pearl sugar and evenly bake dough. Ultimately, the efficiency of the cast iron provides you the capacity to serve Liege waffles quickly in a demanding setting.
Krampouz uses a traditional technique of casting its waffle plates. The iron is first heated until it melts into liquid and then poured into a mold. Once the iron has cooled and solidified, it's removed from the mold. This technique creates the fine pebbled look, visible on the surface of its cast iron material. On the other hand, HVD uses a computer numerically controlled (CNC) machine to form its cast iron plates. The waffles plates are milled with high precision from a computer design file. This unique technique gives the waffles plates a smooth surface. The manufacturer claims that the smooth surface allows easier cleaning and less friction for the yeast dough to expand. We have yet to to receive more customer feedback and evidence to confirm this claim.
Choosing the Right Commercial Liege Waffle Iron
Budget
Both Krampouz and HVD offer high-end commercial waffle irons within a wide price range. Due to their unique manufacturing process, the HVD models sell for a premium to that of Krampouz. If you are starting your business and want to keep your start-up costs low, Krampouz's base models WECDHAAS (110V) and WECDHAAT (220V) start at $1299 and are excellent options for businesses of all size. As your business grows, you can continue to add more of the same units to your store to meet demand or upgrade to a different model at a later time. If your budget allows, you may want to aim for the higher end HVD A57 iron, currently priced at $4,200. Be sure to ask us about our wholesale program (available to all our registered commercial customers).
Kitchen Energy Capacity
Whether you're running a food truck or have a brick and mortar waffle store, it is important to consider the limits of your electrical circuits. While many household appliances run at 110-120 volts in the United States and Canada, commercial kitchen equipment often runs at 208-240 volts. If you are operating a concession stand it is important to keep in mind that not every venue has the same electrical supply. Krampouz and HVD offer both 110V and 220V commercial Liege waffle iron solutions (see chart below for comparison). Higher voltage does not necessarily result in better performance. We'll elaborate more on this in a moment.
Krampouz WECDHAAS
Krampouz WECDHAAT
Krampouz WECCHBAT
Krampouz WECCIEAT
HVD A57
Price
$1,699
$1,699
$3,090
$3,690
$4,590
Origin
France
France
France
France
Belgium
Number of Waffles
2
2
4
4
4
Waffle Size
4 x 7
4 x 7
4 x 7
13 x 4
13 x 4
Voltage
120 V
240 V
240 V
240 V
120 V
240 V
Amperage
12 A
12 A
12 A
16 A
15 A
12 A
Watts
1440 W
1800 W
3600 W
2600 W
1700 W
2600 W
Plug
5-15P
6-15P
6-20P
6-15P
5-20P
6-20P
Dimensions
16.6″ W
23.2″ D
9.1″ H
16.6″ W
23.2″ D
9.1″ H
26.9″ W
23.5″ D
9.1″ H
15.8″ W
11.8″ D
14.2″ H
16.6″ W
23.1″ D
9.1″ H
Weight
44 lb
44 lb
77 lb
68 lb
79 lb
Opening
180°
180°
180°
90°
90°
Axis Rotation
180°
180°
180°
360°
360°
Compliance
NSF
NSF
NSF
NSF
NSF
Depending on the other appliances in use in your professional kitchen, you may need to consider how many amps your kitchen can safely support and how many watts it can generate. Hiring a licensed electrician to rewire your kitchen can be costly, hence it may be initially best to consult with an electrician about your kitchen's power capacity and work with what is available to you.
Performance
While the waffle irons with higher watts (in this case also the ones that run on 220V) release more energy, you should not expect to see a significant difference in performance. The initial heating of an electrical commercial cast iron waffle maker takes on average 20-30 minutes. A 220V iron with higher watts will need approximately 20 minutes, whereas a 110V iron with lower watts will need closer to 30 minutes. However, once the irons are heated and running, the actual time difference between baking waffles is negligible. A cast iron waffle maker typically takes 3 minutes to bake a Liege waffle. A 220V machine with a higher voltage may bake a waffle 10 seconds faster (maximum) than a machine with 110V.
One last important note, regardless of whether you decide to go with a 110V or a 220V machine, try to avoid using extension cords. The use of an extension cord with insufficient cross-section can cause a drop in voltage and increase the amp in your circuit. This can lead to your extension cord heating up and becoming a fire hazard. If you have to use an extension cord, make sure to use one with sufficient cross-section and keep the extension cord as short as possible.
Work Space Footprint & Mobility
The swivel waffle irons of Krampouz (WECCIEAT) and HVD (A57) offer an ergonomic design that minimize their footprint on your counter-top. These two models rotate on their axis by 360°. Similar to the 180° rotating irons this also has the advantage of perfectly distributing the dough over both plates. While the design of the swivel irons offers space efficiency, these irons weight between 68-79 lb and may be a challenge to move. The flatbed irons that make two waffles at a time have the advantage of weighing only 44 lb and offer better mobility.
Number of Waffles and Waffle Size
Most Liege waffle makers come with waffle mold sizes (sometimes referred to as teeth or grids) of 4 x 7 or 13 x 4. The 4 x 7 waffle mold is sufficient for one waffle of up to 4.4 oz (125 g). The 13 x 4 waffle mold yields two waffles of up to 4.4 oz (125 g) each. The 13 x 4 grid is available only in the swivel style waffle makers. The flatbed irons come either with two or four 4 x 7 molds which make two or four waffles, respectively. The swivel waffle makers come with two 13 x 4 molds that can make up to four waffles.
Custom Shape Waffles
HVD offers custom shape and custom imprint waffle makers. While this may initially sound like a great differentiator for your business, there are some important points to consider. Liege waffles are dough-based with limited precision to control how the dough will expand in the waffle iron. Even the best designed and intended custom shape may get lost during the baking process. For custom-shaped waffles, batter based Brussels-style waffle may be a better option. Any personalized waffles with let's say a logo on top is likely going to be covered with toppings, hence, defeating the purpose of a logo design. In addition, fine details ingrained in the waffle mold can make the cleaning process significantly more difficult. If after consideration you desire a custom-shaped Liege waffle iron, the cost of creating the design varies depending on complexity and ranges between $1000 – $2500.
Parts and Tools
For the DIYers, Waffle Pantry offers spare parts for Krampouz and HVD irons. Over years of wear and tear, you may need to replace certain parts, such as the heating elements. While we do not offer in-house repair services, we can help you source a local appliance repair shop for further consultation. We also offer high quality all stainless-steel waffle forks and waffle iron scrapers. These are must-have tools to serve waffles and keep your iron clean during operations. The waffle iron scraper is safe to use on cast iron plates and fits perfectly between the grids of your waffle maker to remove any residues of burned and hardened pearl sugar. Keep you iron clean to avoid burned sugar residues from creating dark spots and unpleasant taste on future waffle batches.
Please let us know if you have further questions in regards to any specific Krampouz or HVD iron or would like to purchase one. If there is a model that you're interested not listed on our website, don't hesitate to contact us and we'll provide you with availability and pricing. In addition, Waffle Pantry serves as a reliable and competitively-priced source for all your Belgian pearl sugar needs. We also carry a high-quality Liege Waffle Mix that significantly eases the process of preparing dough. Wholesale pricing is available for both our pearl sugar and waffle mix after submitting an inquiry. We wish you the best of luck in your professional endeavors!
Feel free to share this with friends and family: