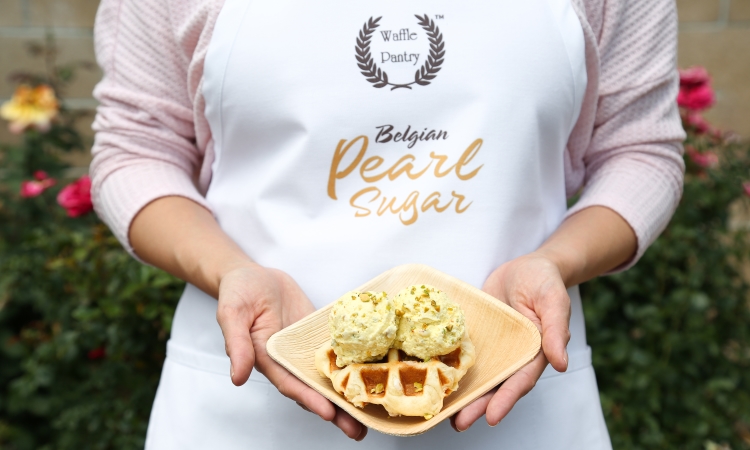 Get your taste buds ready for what may be the most flavorsome Liege waffle ice cream experience ever – Belgian Liege waffles with pistachio, rose water, and saffron infused vanilla ice cream! We've adapted and fused a recipe from a centuries-old Persian ice cream creation, bastani sonnati, to include Liege waffles. This ice cream sandwich can be enjoyed between a sliced waffle or open-faced and we promise it'll knock all who taste it off their feet.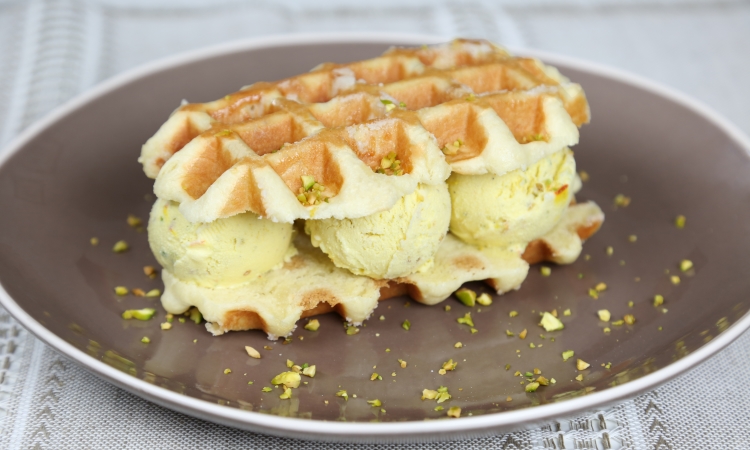 Just in time for summer, we show you how to create the ultimate ice cream and Liege waffle combination that can be prepared with ease at home. The recipe starts with the preparation of ice cream before baking the Belgian Liege waffles. The time needed for the ice cream to firm up in the freezer will give you ample time to prepare, proof and bake the waffle dough.
Preparing the Persian Ice Cream
The combination of pistachios, rose water, and saffron with vanilla ice cream creates an exhilarating taste combo you've likely never experienced before. First, allow 1.5 quarts of vanilla ice cream to become soft and creamy before working with it. While you wait for the ice cream to get to room temperature, add 1/4 teaspoon crushed saffron into a small cup and add 1 tablespoon of hot water to it. Allow the saffron to steep for about 30 minutes and turn the water into a vivid red-orange color. The saffron is the magic ingredient that imparts a beautiful golden color to the ice cream.
Next, take 1/2 cup of unsalted pistachios and chop coarsely (hint: if you only have salted pistachios on hand, we recommend soaking the pistachios first in water for an hour before using in this recipe). In a large bowl, combine the now softened vanilla ice cream, saffron mixture, pistachios, and add one tablespoon of rose water. Once mixed, pour the creamy mixture back into its original container or any container you have on hand, and place it in the freezer for 3 hours.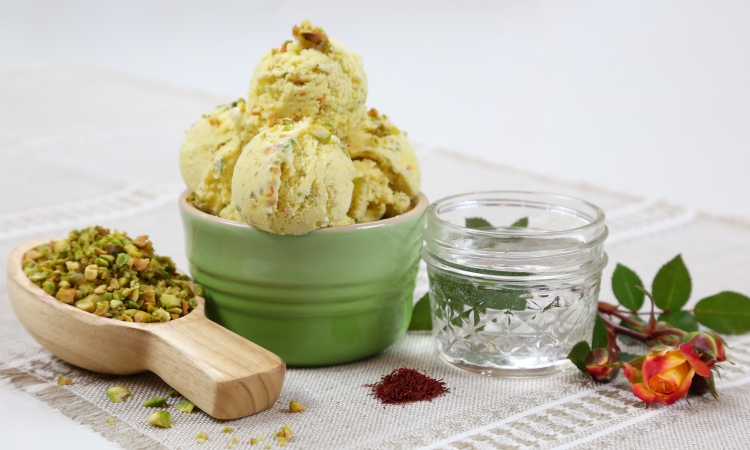 Liege Waffle Ice Cream Ingredients
Some interesting facts about the exotic ingredients we use in this recipe — saffron and rose water.  Saffron is infamous for being the most expensive spice in the world and is used in a variety of delicious dishes, sweet and savory. The growing and harvesting process is very difficult and laborious because only a small part of the saffron flower known as the stigmata is used to make the spice. Rose water adds a magical taste to our ice cream that is literally as delightful as roses smell in the summer. Both ingredients are largely available in most grocery stores these days but we recommend visiting a specialty food store if you have trouble finding them.  These two ingredients lend a special, irreplaceable essence to the recipe that you most definitely want to taste!
Baking Belgian Liege Waffles
To save time and simplify the process, we prepared authentic Belgian Liège waffles using the Waffle Pantry Liège Waffle Mix. The mix comes with our famous Belgian pearl sugar and will help you prepare delicious caramelized pearl sugar waffles in no time. Once the mix is in hand, all that's required is water, butter, and fresh eggs. We've included the instructions to our waffle mix at the bottom of this post + you can view our Liège waffle mix video guide. For those that don't have the mix, you can use our traditional Liège waffle recipe using basic ingredients you have on hand in your pantry or with the Liège Waffle Essentials pack, which includes the finest imported European gourmet baking ingredients. If you're new to the process, you may find this instructional Liège waffle video helpful.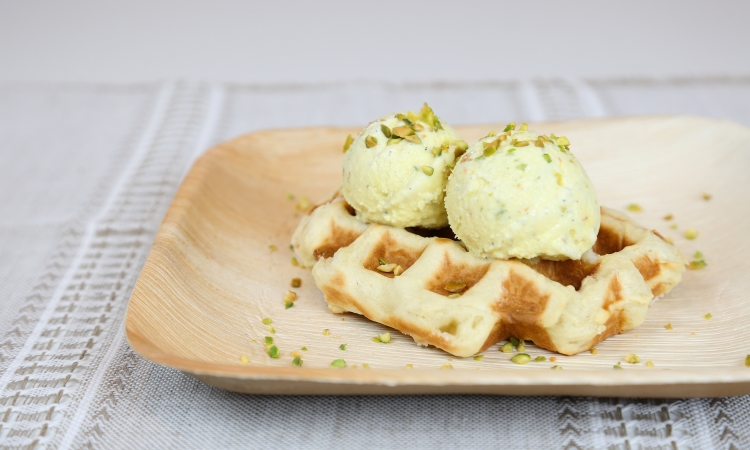 Once the waffles are ready, add two scoops of the ice cream creation on top and garnish with chopped pistachios. If you feel adventurous, carefully slice the waffle in half with a bread knife (you want to do this so you have two flat pieces), add 2-3 scoops of ice cream to make a waffle sandwich. Sit back, take in the summer bliss, and enjoy the heavenly taste.
We'd love to hear from you, what are your favorite summer Liège waffle creations?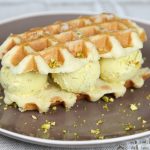 Print Recipe
Summer Temptation: Homemade Liège Waffle Ice Cream
Belgian Liege waffles topped with pistachio, rose water, and saffron infused vanilla ice cream!
Servings:
9
Ice Cream Liège Waffles
Ingredients
Persian Ice Cream
Vanilla Ice Cream: 1.5 qrt

Pistachios: 1/2 cup

Saffron: 1/4 tsp

Rose Water: 1 tbsp

Hot Water: 1 tbsp
Liège Waffle Dough
Waffle Pantry Liège Waffle Mix: 16 oz

454g

Waffle Pantry Belgian Pearl Sugar: 2.5 oz

71g

Lesaffre SAF-Instant Yeast

Gold: 0.25 oz (7g)

Hot Water: ¾ cup

177ml or 6 fl oz

Butter: 1 stick

113g or 4oz

Egg: 1 large egg
Instructions
Making Persian Ice Cream
Allow 30 minutes for vanilla ice cream to become soft and creamy

Crush saffron and add into small cup. Add hot water and let steep for 30 minutes.

Chop pistachios coarsely

Add vanilla ice cream to a big bowl and mix in saffron mixture. Add chopped pistachios and rose water and mix well.

Add ice cream mixture into original container and freeze for 3 hours.
Baking Belgian Liège Waffles
Combine softened butter and hot water in mixer. Add waffle mix, egg and yeast. Stir well. Knead to form sticky dough.

Cover dough and let rest for 2 to 3 hours.

Gently fold Belgian pearl sugar into dough. Divide dough into 9 portions. Cover and allow dough to rest for 15 minutes.

Preheat Liege waffle iron (360°F or 182°C). Flatt dough balls slightly and place on the iron. Bake for 2 to 4 minutes until golden.
Serving Liège Waffle Ice Cream
Add two scoops of ice cream to your Liège and garnish with chopped pistachios. For an ice cream sandwich, cut Liège waffle in half (using a bread knife) add 2-3 scoops of ice cream. Enjoy!
Feel free to share this with friends and family: