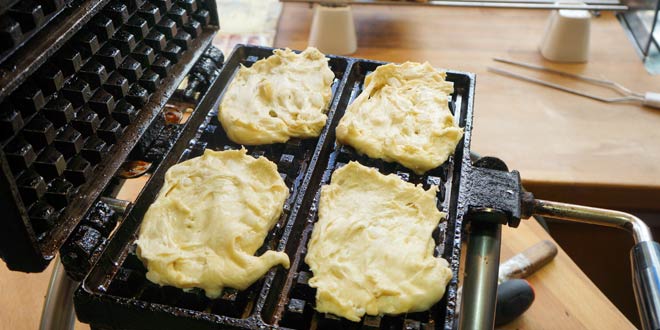 One of the secrets to baking perfect waffles for many years to come is taking good care of your waffle iron with every use. It boils down to knowing how to clean your waffle iron and minding what comes in contact with your waffle plates during the baking process. Here are a few golden rules:
Always use the right tools to handle your fresh baked waffles. Heat-resistant silicone tools keep non-stick surfaces in immaculate condition, which allows waffles to easily slip off the iron.


Choose butter and cooking oils over artificial cooking sprays.  Butter and oil are easier to clean and will help season your waffle iron's surface. Cooking sprays often contain chemicals that leave behind residue.
To clean your waffle iron, use a soapy, non-abrasive sponge, toothbrush or cloth to remove the grit. You may even have the option to pop the plates off your waffle iron and place them in the dishwasher.
Fight the temptation to let the plates sit with sugar, butter and waffle bits for too long. The waffle iron is infinitely easier to clean before the bits have had a chance to harden.
If you find that the bits have hardened (we understand, few can resist the lure of fresh baked waffles), we recommend using a waffle iron scraper or a waffle iron wire brush to help loosen the debris off the plates. These tools are made by Krampouz and are safe to use on your cast-iron waffle maker.
Dry the waffle plates thoroughly before tucking your iron away.
Optional: lightly coat your waffle iron with a bit of oil or butter to keep your waffle iron seasoned. This is strongly recommended for cast iron waffle makers.
How do you keep your waffle iron like new? Share your tip in a comment!
Feel free to share this with friends and family: