Celiacs and gluten-free customer rejoice! Your waffle experience just got more exciting with Waffle Pantry's gluten-free Liege waffle mix. Uniquely formulated with all-natural ingredients and Waffle Pantry's famous Belgian Pearl Sugar, our gluten free mix combines irresistible flavors with no trace of gluten. Whether you're following a gluten free diet or not, you'll love the taste of our authentic gluten-free Liege waffle mix!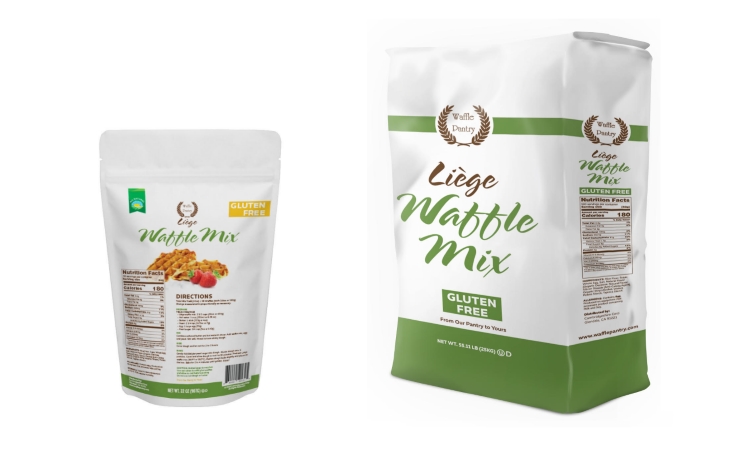 Authentic Liege Waffle Taste and Texture
At last, homemade Liege waffles that are free from wheat and bursting with scrumptious flavor. Liege waffles can be challenging to create, especially for gluten-free bakers. Our new gluten-free waffle mix makes it now easier than ever before to get reliable, consistent results. We created countless waffles in our test kitchen and meticulously taste-tested each one to determine the perfect formula. The result? Soft on the inside with a delicate crispiness outside, these waffles will delight with every bite. We promise you will not be able to taste the difference!
Quality Gluten Free Liege Waffle Ingredients
Waffle Pantry's Gluten-Free Liege waffle mix is made with the finest premium ingredients. Our mix is free of health-deteriorating food additives such as xanthan gum or guar gum. Most gluten-free products use xanthan gum or guar gum as both binders and thickeners. Made with all-natural rice flour and starch, we formulated our mix to recreate the same sticky dough that we like to see with high gluten flour. We test each production batch rigorously in the lab to meet the strict FDA Gluten-Free product guidelines. Combined with our famous Belgian Pearl Sugar, we created the perfect blend of gluten-free Liege waffle ingredients.
3-Step Preparation — Gluten-Free Liege Waffle With Ease
Easy-to-make delicious gluten-free Liege waffles are now at your fingertips. The preparation of our gluten free Liege waffle mix takes no more than 10 minutes, followed by a 2-3 hours proofing time. If you are already familiar with our traditional Liege waffle mix, you'll be pleasantly surprised to know that the preparation steps are nearly identical. The only difference from our classic Liege waffle mix is just a bit of extra water. You'll find the instructions conveniently located on every bag of gluten free mix.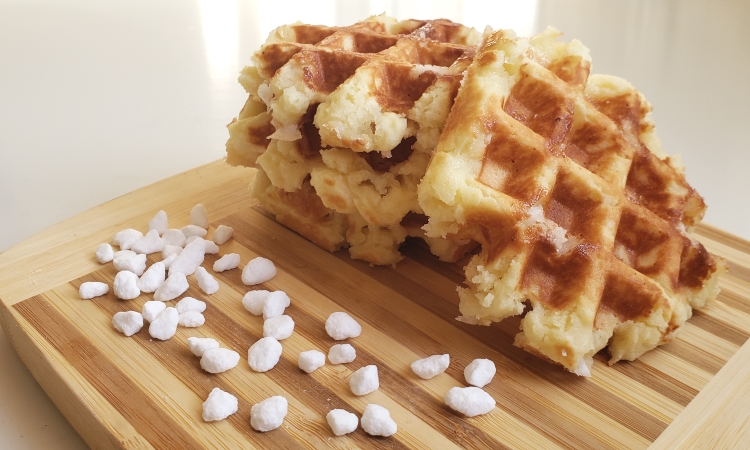 Packaging Size & Yield
Waffle Pantry's GF Liege Waffle Mix is available both in a retail and bulk packaging size. Home bakers can try our gluten free mix in 32 oz. resealable pouch bags, yielding a total of 18 gluten free Liege waffles (each 3.8oz or 110g). For business owners, our GF mix is available in 55.11lb (25 kg) food service size bags, yielding a total of 500 gluten free Liege waffles (each 3.8oz or 110g). Both packaging sizes are complimentary with the necessary amount of Belgian Pearl Sugar and SAF-Instant dry yeast.
| | | |
| --- | --- | --- |
| | | |
| Packaging Size | 32 oz | 55 lb |
| Yield | 18 Gluten Free Liege Waffles | 500 Gluten Free Liege Waffles |
| Belgian Pearl Sugar | 16 oz included | 18 lb included |
| Saf Instant Yeast | 7 g (Pack of 2) included | 16 oz included |
Liege Waffle Mix Wholesale Pricing
As always, we do offer preferred wholesale pricing to all of our commercial customers. If you own a business such as a cafe, food truck, or restaurant, be sure to inquire about our bulk pricing options. We can help you with every step of the way to add both traditional Liege waffles and gluten-free Liege waffles to your menu. Contact us now and start enjoying the taste of mouthwatering Liege waffles!
Waffle Pantry Gluten Free Liege Waffle Mix
Ingredients
16

oz

Waffle Pantry Gluten Free Liege Waffle Mix

454g

5

oz

Waffle Pantry Belgian Pearl Sugar

142g

2 1/2

tsp

Lesaffre SAF-Instant Yeast

7g or 0.25oz
WHAT YOU WILL NEED
1

cup

Hot Water

250ml or 8.5 fl oz

1

stick

Butter

113g or 4oz

1

Egg

large
Instructions
Combine softened butter and hot water in mixer. Add waffle mix, egg and yeast. Stir well. Knead to form sticky dough.

Cover dough and let rest for 2 to 3 hours.

Gently fold Belgian pearl sugar into dough. Divide dough into 12 portions. Cover and allow dough to rest for 15 minutes. Preheat Liege waffle iron (360°F or 182°C). Flatt dough balls slightly and place on the iron. Bake for 2 to 4 minutes until golden. Enjoy!
Feel free to share this with friends and family: