We've decided to venture out and prepare the Brussels waffles according to its traditional egg-white-leavened recipe. The lighter and crisper Belgian Brussels waffles are a treat served by many street vendors all across Belgium.

They are easy to differentiate from their Liege waffle cousin by their rectangular sides and traditional 4×6 pockets. Often dusted with icing sugar and topped with light fruits, these waffles are delicious with every bite.
The History of Brussels Waffles
The Brussels waffles is the oldest type of waffle and dates its first occurrence back to 1842/43. The Swiss baker, Florian Dacher, who came from Brussels introduced these special waffles for the first time in the city of Ghent, Belgium. The first written recipe would later be published in 1864 by Philippe Cauderlier in the his book "La Pâtisserie et la Confiture" (trans. Pastry and Jams). The original Brussels waffle recipe was prepared with an egg-white-leavened batter and later evolved into a yeast-leavened batter.
Recommended Belgian Brussels Waffle Iron

We recommend the Krampouz Brussels Waffle Iron WECDBAAS when baking Brussels waffles especially in a commercial setting. The Krampouz waffle maker is equipped with cast iron waffle plates which are key to any professional waffle iron. It's physical properties allow the irons to retain maximum levels of heat as well as provide homogenous heat distribution.
The waffle iron's opening range is a full 180°, granting perfect distribution of dough over both surfaces. This is an important feature as it allows you to swivel the plates over mid way through the baking cycle in order for the batter to evenly distribute and bake.
The design of the waffle iron allows you to easily remove the iron plates for quick and thorough cleaning. The Krampouz Brussels waffle iron also includes a drip tray to prevent spills.

Ingredients:
2 cups (500g) French T55 flour
4 tbsp. (50g) sugar
1 ½ tbsp. (20g) baking powder
¾ tsp (4g) salt
¾ stick (80g) melted butter
1 ½ cups (360 ml) milk
4 whole eggs
5 egg white
Instructions:
Combine the flour, sugar, baking powder, and salt in bowl.
Using your whisk, mix all the previous ingredients.
Add whole eggs to mix.
Gradually whisk milk into the mix.
Add melted butter to the mix.
In a separate bowl, using your whisk or mixer beat egg whites to stiff peaks until it forms into whip cream.
Gradually work in the whip cream into the mix using a spatula.
Pre-heat waffle iron to

410-430°F (210-220°C) 

and cook for 3-4 minutes. Remember to swivel your iron around for even distribution of batter.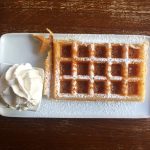 Print Recipe
Belgian Brussels Waffles
Traditional Belgian Brussels style waffle recipe.
Ingredients
2

cups

French T55 flour

(250 g)

4

tbsp

Sugar

(50 g)

1 1/2

tbsp

Baking powder

(20 g)

3/4

tsp

Salt

(4g)

3/4

sticks

Melted butter

(80g)

1 1/2

cups

Milk

(360 ml)

4

Whole Eggs

5

Egg White
Instructions
Combine the flour, sugar, baking powder, and salt

2 cups French T55 flour,

4 tbsp Sugar,

1 1/2 tbsp Baking powder,

3/4 tsp Salt

Gradually whisk milk to mix

Beat egg whites to stiff peaks

Steer whip cream gradually into mix

Heat up waffle iron to 410-430°F (210-220°C) and bake waffles for 3-4min
Video
Feel free to share this with friends and family: