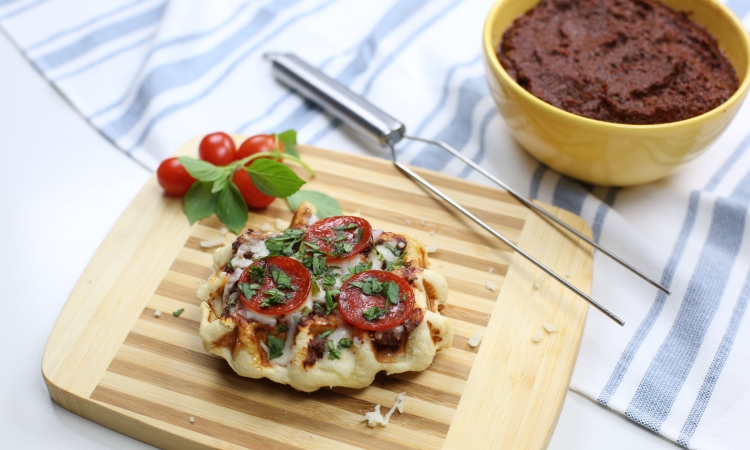 There are two temptations no foodie can resist—pizza and waffles. Let's face it, who could possibly say no to either of these European food sensations. We're  taking things to the next level and combining the best of both worlds to create mouthwatering Liege waffle pizza calzone. The result is a seriously delectable blend of sweet Belgian and savory Italian cuisine.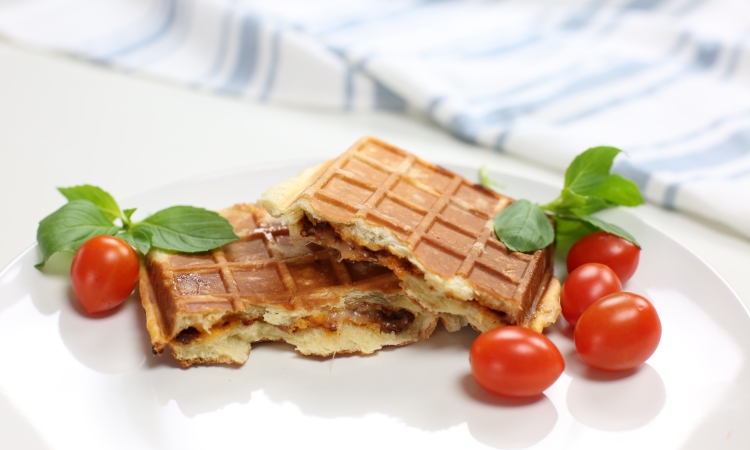 LIEGE WAFFLE PIZZAS
Liege waffle dough base
To start, we need to first create the Liege waffle dough base. We decided to make things easier and used our quality go-to Waffle Pantry Liege Waffle Mix. The mix helps you save time and effort to whip up a fresh batch of Liege waffle dough. You can of course choose to create the dough from scratch in which case we recommend following our authentic Liege waffle recipe. Creating the dough from scratch is itself a rewarding experience, especially if you use the right ingredients. (We recommend our combination of specially-curated ingredients now available in a set, the Liege Waffle Essentials.) Whichever way you decide to go about this, your taste buds will be pleased.
Pearl sugar adjustment
Since this will be a sweet and savory dough creation, we've adjusted the amount of pearl sugar we add to the dough. Regardless of your decision to use the waffle mix or create the dough from scratch, we recommend using half of the recommended pearl sugar amount as the original recipe calls for. For example, in our case in which we used the waffle mix, we adjusted the Belgian pearl sugar amount from 5 oz (142g) down to 2.5 oz (176g).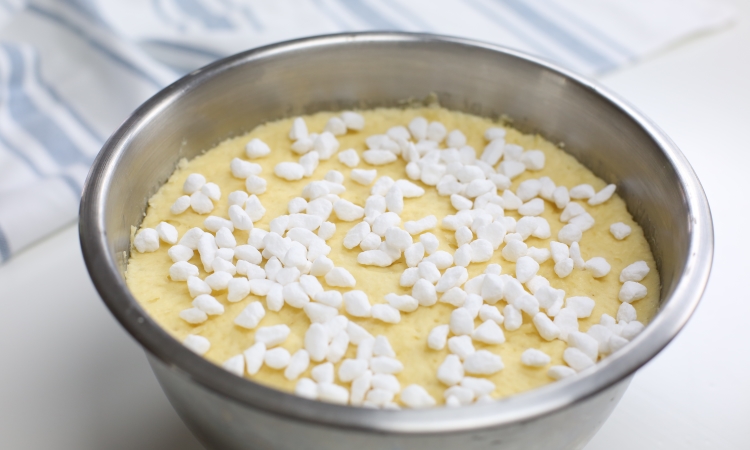 Tomato sauce
For the pizza's tomato sauce we used our own special family recipe (details listed below). Our tomato sauce recipe is rich in flavor and thick in texture. The thick texture is important to maintain the crispy and yet soft texture of our Liege waffle dough. A too liquid tomato sauce would add too much moisture to the waffle dough.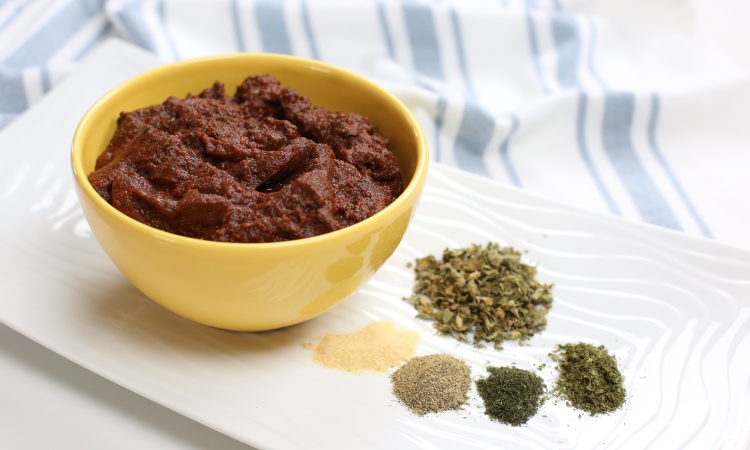 Baking Liège waffle pizza  — Here is our quick three-step process. First, bake just the waffle dough (with the pearl sugar) using a Liege waffle iron. The key is to bake the waffle only about 3/4 way through to a light brown color. If you typically bake your Liege waffles for six minutes, we suggest cutting the baking time down to 4 minutes. This important adjustment will allow us to bake the dough a second time, after we've topped it with our savory ingredients.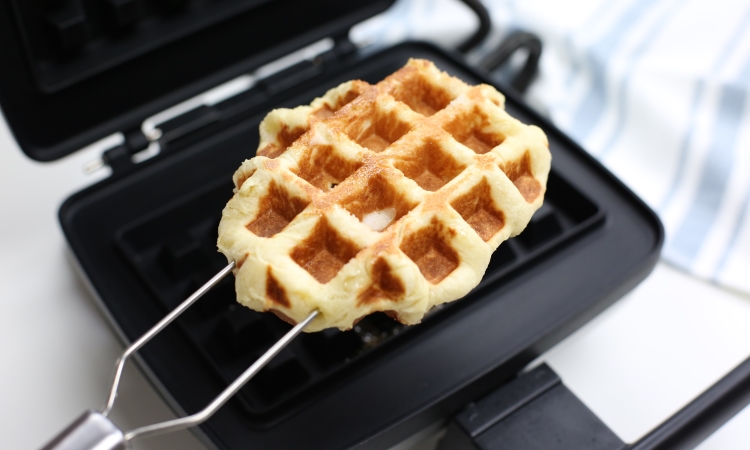 The next part is the fun part, adding our favorite toppings to the pizza. Add a dollop of the tomato sauce, carefully spread a small amount over the waffle and then it's topping time. We went with the classic combo – pepperoni and cheese. Pineapple or not, this is your chance to get creative!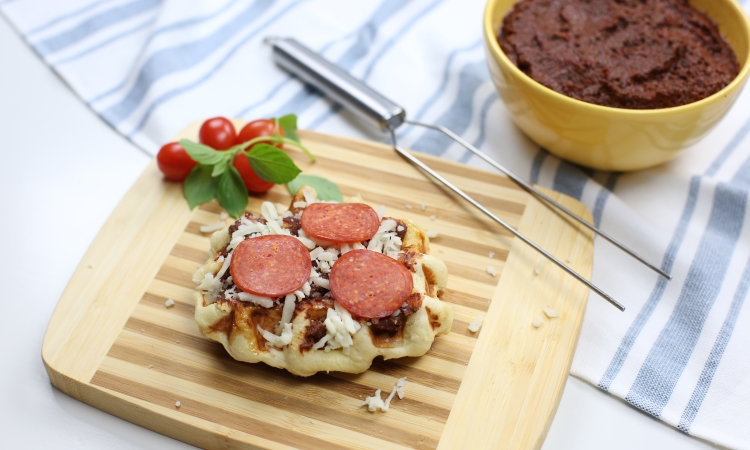 In our last step, we bake the waffle a second time with our added toppings in an oven. This helps heat up the toppings and finishes cooking up the Liege waffle dough. We used a countertop oven for convenience and baked the Liege waffle pizza for the remaining 2 minutes at 450° F with the broil setting. The broil setting is a neat feature to use if available to you as it helps to focus the heat exposure on the toppings. For a fragrant finishing touch, add freshly chopped basil or parsley. Voila, Liege waffle pizza!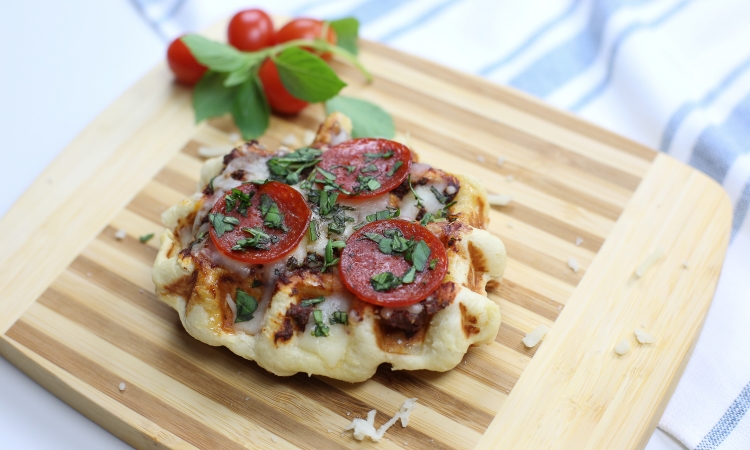 LIEGE WAFFLE CALZONES
Baking Liege waffle calzones
After our success with pizza waffles, we didn't want to stop.  We decided to try our hand at Liege waffle calzones (pizza pockets) which were a cinch since we already had the ingredients handy. We started with  4-oz. Liege waffle dough ball and rolled it with a pin. Flour is your friend when you're rolling things out, dust plenty of flour on both your rolling surface and pin so the dough doesn't stick. You'll want to roll the dough to a size where once folded in half, it'll bake up nicely without running over the edges of your waffle iron. If you're eyeballing it, start with a smaller size first and go up from there as you bake.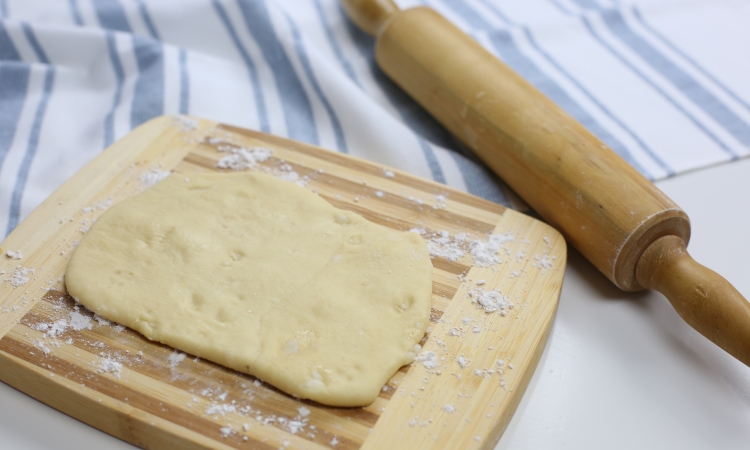 Once that's done, it's filling time. Add the tomato sauce to the dough and go nuts with fillings. We do recommend not overloading here. Play around with the amount until you get the hang of things.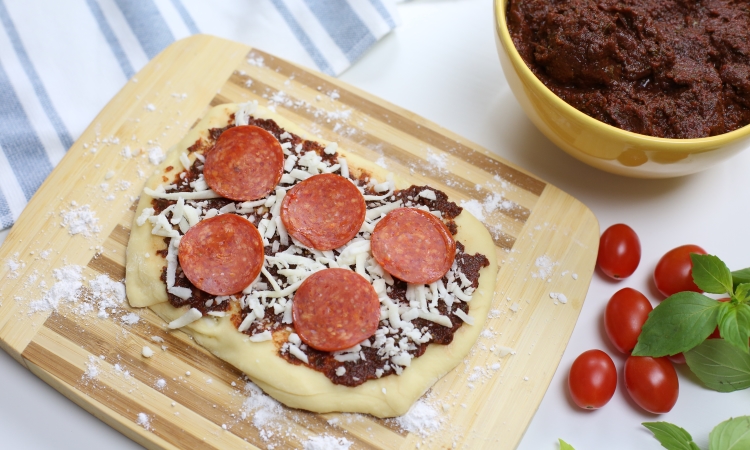 Fold the dough over into a pocket and use the back of a wet fork to seal the open ends of your dough.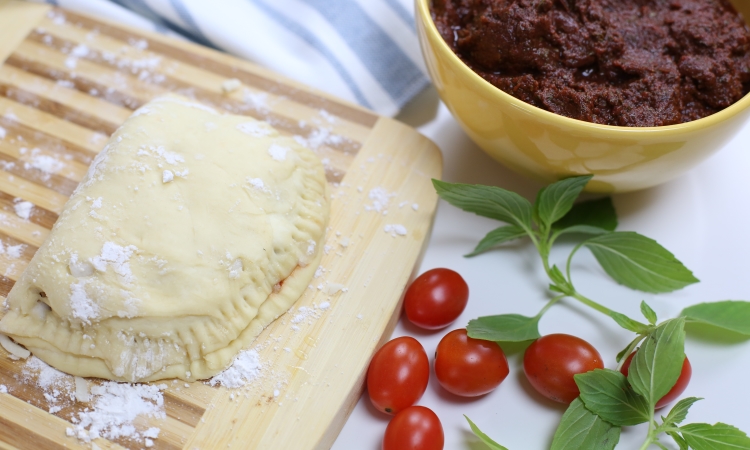 We used our Croquade salty waffle plate to bake the filled waffles. This is a shallower waffle plate which makes it ideal for filled waffles. It is a great addition to have if you own a Croquade Liège waffle iron. Don't worry if you don't have this special plate handy, your regular Liege waffle iron should work fine.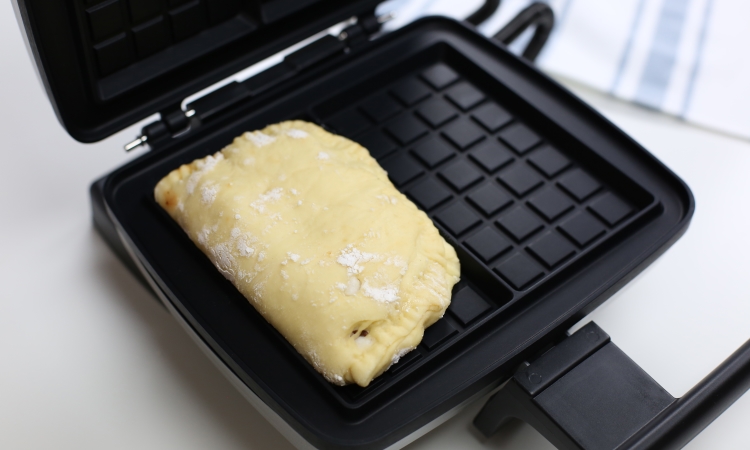 Once the iron is at the right baking temperature, place the filled dough onto the plates and bake as you would a regular Liege waffle. We had superb results when baking them for 6 minutes. The baking time may vary depending on the iron you have. A great indicator of whether the Liege waffle calzone is done is to look for a gorgeous brown-golden color.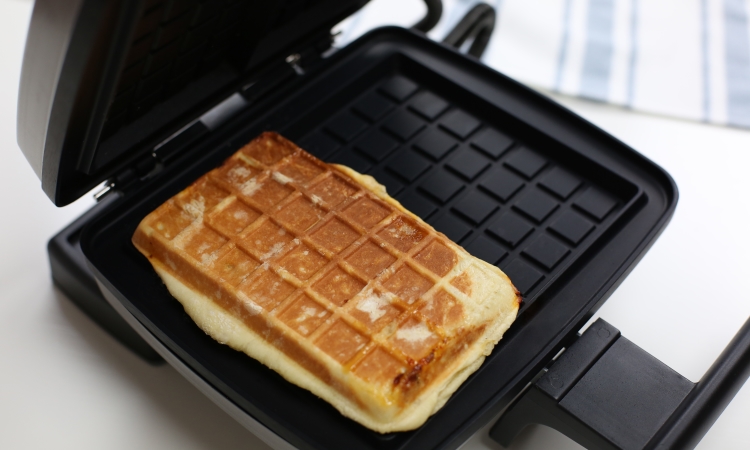 Voila, Liège waffle calzone! We promise, this will make your friends and family swoon.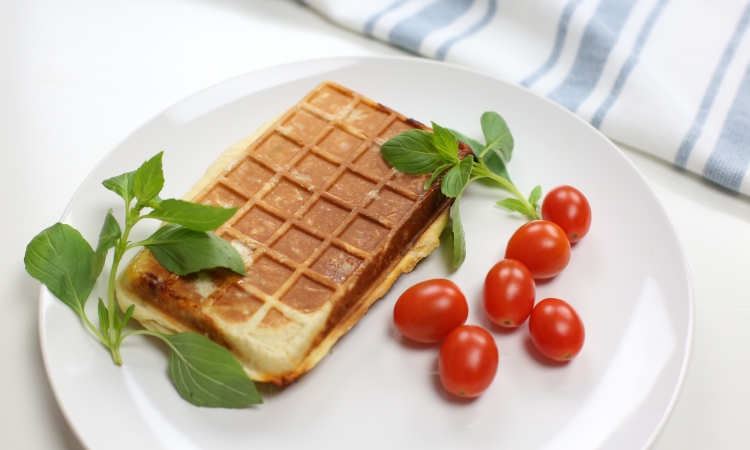 Feel free to share and tell us your favorite topping combinations. We love hearing your flavorful ideas. Happy baking!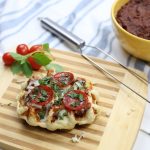 Print Recipe
Liège Waffle Pizzas and Calzones
There are two temptations no foodie can resist—pizza and waffles. Let's face it, who could possibly say no to either of these European food sensations. We're  taking things to the next level and combining the best of both worlds to create mouthwatering Liège waffle pizzas and calzones.
Servings:
9
Liège Waffle Pizzas / Calzones
Ingredients
Liège Waffle Dough
Waffle Pantry Liège Waffle Mix: 16 oz

454g

Waffle Pantry Belgian Pearl Sugar: 2.5 oz

71g

Lesaffre SAF-Instant Yeast

Gold: 0.25 oz (7g)

Hot Water: ¾ cup

177ml or 6 fl oz

Butter: 1 stick

113g or 4oz

Egg: 1 large egg
Tomato Sauce
Tomato Paste: 10 tablespoon

Water: 3/4 cups

Oregano: 3 tablespoon

Parsley: 1 tablespoon

Dill: 1 tablespoon

Black Pepper: 1 teaspoon

Granulated Garlic: 1/2 teaspoon
Pizza Toppings and Calzone Fillings
Shredded mozzarella cheese

Sliced pepperoni

Fresh Parsley/Basil Leaves
Instructions
Tomato Sauce
Mix oregano, parsley, dill, black pepper, and granulated garlic into tomato paste

Gradually pour water into the mix and stir well
Liège Waffle Dough
Combine softened butter and hot water in mixer. Add waffle mix, egg and yeast. Stir well. Knead to form sticky dough.

Cover dough and let rest for 2 to 3 hours.

Gently fold Belgian pearl sugar into dough. Divide dough into 9 portions. Cover and allow dough to rest for 15 minutes.
Baking Liège Waffle Pizzas
Preheat Liège waffle iron (360°F or 182°C). Flatten dough balls slightly and place on the iron. Bake for 2 to 4 minutes until light brown (3/4 through).

Remove waffle from waffle iron and add tomato sauce, mozzarella cheese, and pepperoni toppings.

Bake Liège waffle pizza for an additional 2 minutes in a countertop oven (450°F or 232°C) until cheese melted. Top off with fresh chopped parsley or basil leaves. Enjoy!
Baking Liège Waffle Calzone
Use flour to roll out dough ball.

Add tomato sauce, mozzarella cheese, and pepperoni fillings. Fold dough over to form pocket. Use back of wet fork to seal pocket close.

Bake Liège waffle calzone for 2-4 minutes until golden. Enjoy!
Feel free to share this with friends and family: