Baking Belgian Liege Waffles With Ease
Making fresh and beautiful Liege waffles is now easier than ever with the help of
Waffle Pantry's Liege Waffle Mix
. The delicious taste of authentic Liege waffles takes great dedication and time when made from scratch. For those looking to a simpler and quicker way, we have just the solution.
Our team has been in development for months to create a foolproof way to simplify the process from ingredients to fantastic waffles. Food scientists and experts were consulted. We spent countless hours in the test kitchen. Unknowable sums of waffles were baked and consumed all in the name of creating the perfect formula.
Quality Ingredients
During development, we made it our priority to use high quality ingredients. Great taste starts with superb ingredients and we knew this was the singular way to the most authentic tasting Liege waffles. For those who have baked Liege waffles, the complex nature and labor-intense preparation requirements also make for a good recipe. With the original Waffle Pantry Liege waffle recipe as our base, we rigorously followed our ingredients list and preparation requirements. Here is what we came up with:
Every package of Waffle Pantry Liege waffle mix is accompanied by Waffle Pantry's Belgian pearl sugar and Lesaffre SAF Gold Instant Yeast. These three key ingredients are packaged separately to ensure absolute freshness and are only combined by you when you're ready to bake. The only thing you need from your kitchen is hot water, butter, and eggs to bring the mix to life.
Preparation and Yield
Preparation time is only 5 to 10 minutes. Proofing time is for the Liege waffle dough is about 2 to 3 hours, which is ample time for the yeast to activate. Our 32 ounce Liege waffle mix package provides enough ingredients to serve 18 waffles (each 100 g or 3.5 oz in size). The 55 pound bulk size Liege waffle mix bag will make you 500 waffles.
Liege Waffle Mix Wholesale
For all of our food service and business customers, don't hesitate to contact us for more information about our Liege waffle mix wholesale program. Let us formulate and source the best ingredients for you and help you achieve a consistent and authentic result while you focus on your business.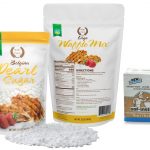 Print Recipe
Waffle Pantry Liege Waffle Mix
Total Mix Yield (32 oz) = 18 Waffles (each 100 g or 3.5 oz) Change measurements proportionally as necessary.
Ingredients
INCLUDED
Waffle Pantry Liege Waffle Mix: 1 lb

454g

Waffle Pantry Belgian Pearl Sugar: 5 oz

142g

Lesaffre SAF-Instant Yeast

Gold: 0.25 oz (7g)
WHAT YOU WILL NEED
Hot Water: 3/4 cup

177ml or 6 fl oz

Butter: 1 stick

113g or 4oz

Egg: 1 large egg
Instructions
Combine softened butter and hot water in mixer. Add waffle mix, egg and yeast. Stir well. Knead to form sticky dough.

Cover dough and let rest for 2 to 3 hours.

Gently fold Belgian pearl sugar into dough. Divide dough into 12 portions. Cover and allow dough to rest for 15 minutes. Preheat Liege waffle iron (360°F or 182°C). Flatt dough balls slightly and place on the iron. Bake for 2 to 4 minutes until golden. Enjoy!
From Our Pantry to Yours!
Feel free to share this with friends and family: