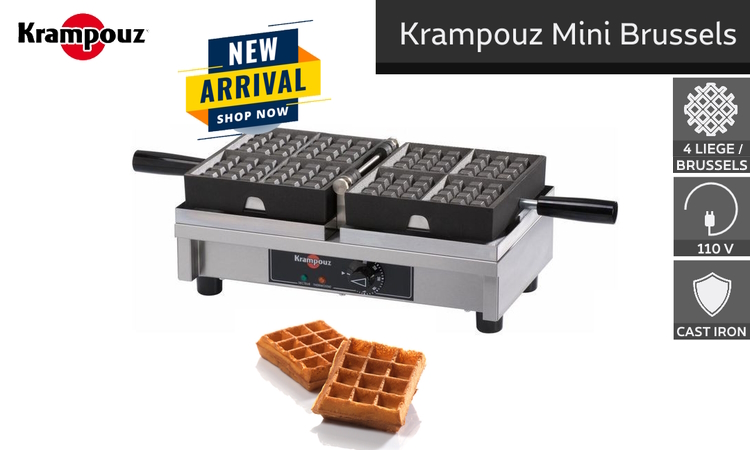 The Mini Brussels Waffle Maker from Krampouz has finally arrived. This French engineering ingenuity will make the perfect mini waffles!
Make 4 Mini Brussels or Liege Waffle
The Krampouz WECAWAOA (Hatco KWM18-MBR43515) comes with cast iron plates and makes 4 waffles at a time in 3-4 minutes. While the the manufacturer, Krampouz, labels the iron as a Brussels waffle maker, it can make both Brussels and Liege waffles. The opening range of 180° makes it possible to swivel the plates over and allow the liquid batter of the Brussels waffle to flow into all corners of the plates. The 110 Volts machine (1440 Watts and 12 Amps) will work out of any U.S. kitchen.

Krampouz Mini Brussels Maker Dimensions
The Krampouz mini Brussels waffle iron makes, as the name suggests, relatively smaller size waffles compared to its traditional parent size. The dimensions of each mini waffle come to 4.4 x 3.6 inches in size and 1.1″ thickness. This is the ideal waffle maker for achieving a higher yield and a relatively smaller but yet filling serving size. In case of savory waffles the smaller size waffles could work great as buns for a sandwich. As far as the footprint of the mini waffle maker is concerned, the machine measures 23″ W x 17″ D x 9.13″ H in size.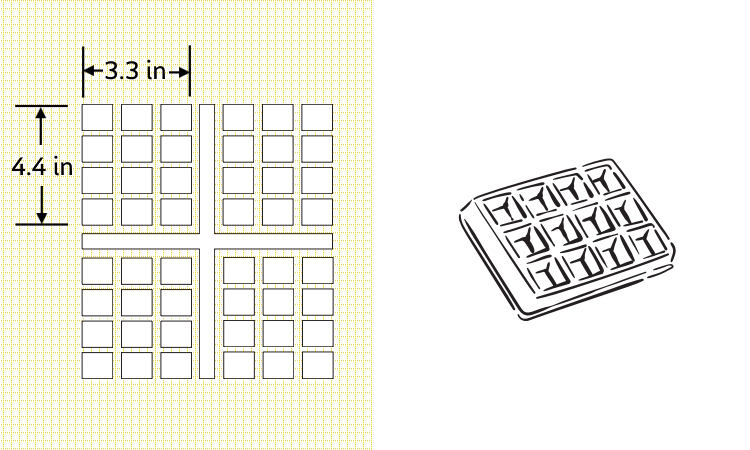 Full Range of Professional Grade Cast Iron Waffle Makers
If the Krampouz mini Brussels waffle maker does not suit your needs, make sure to checkout our full range of professional cast iron waffle makers. Additionally, we encourage you to checkout the Krampouz's buying guide and contact us if you have any questions or want to discuss further. We carry most models in stock and can ship out all orders within 24 business hours. Our Krampouz models come with free shipping within the continental United States.

Happy Baking!
Feel free to share this with friends and family: