A French classic, you can now make delicious crepes in 3 easy steps and 10 minutes using Waffle Pantry's Liege waffle mix. Crepes are a popular and difficult to miss street food delicassy in Paris and around the world. You find them often filled with sweet or savory toppings. If you're wondering how to make authentic French crepes, we have a simple and savory solution for you: using Waffle Pantry Liege waffle mix just add 3 simple ingredients and viola!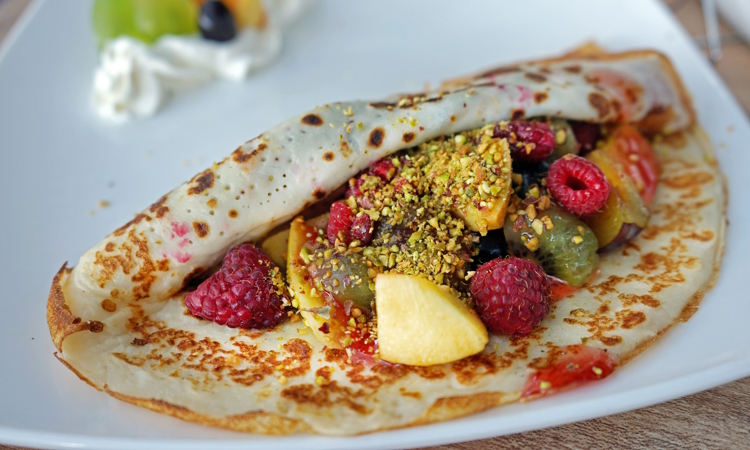 The Best of Two Worlds: French Crepes and Belgian Liege Waffles Mix
Our Liege Waffle Mix has become a quality kitchen stable for many professionals and home bakers. Making Liege waffle dough from scratch can be overwhelming and time consuming. This is where our mix comes in handy! As a result, we often receive feedback from customers that highlights its consistency and ease when preparing Liege waffle dough.
We didn't stop there and decided to go back to the kitchen and experiment further with the same mix. With just a few small adjustments and in no time, our waffle mix once again blew our taste buds with possibly the best French crepes. We were just as surprised, the same mix that creates the popular sticky Liege waffle dough is also able to make a smooth French pancake batter.
The small tweaks that makes Liege Waffle Mix Perfect for French Crepes
Yeast
The formulation of Belgian Liege waffles and French crepes is similar, but there are few differences that we need to consider. Liege waffles are made with a yeast based dough while French crepes are based on a smooth batter. Hence, we don't have to add any yeast and can skip the rising time.
Belgian Pearl Sugar
Belgian pearl sugar is the key ingredient in Belgian Liege waffles, which gives the waffles their licious caramelized flavor. In contrast, French crepes don't call for pearl sugar wich is why you can skip this too when preparing the mix. Fortunatley, you can purchase our Liege waffle mix without the pearl sugar and yeast to not be wasteful.
Milk Instead of Water
When it comes to the moist ingredients, we will simply replace the water needed for our Liege waffle mix with milk. The butter and eggs remain to be added to our mix, albeit in different ratios. For the complete ingredients and instructions skip to the recipe below.
Professional French Crepes Machines
If you are in the market for a professional crepes machine we only have the best recommendation for you. The Krampouz Electric Round Crepe Machine CEBIR4 is a French engineering ingenuity and a must for every professional kitchen. Krampouz was founded in 1949 and is today one of the leading manufacturers of crepe and waffle machines worldwide. The Krampouz Crepe Machine CEBIR4 runs on 120 Volts and works out of any Northern American power plug. It features a 16 inch cast iron plate to effectively retain the heat. You can adjust the temperature between 120°F and 570°F.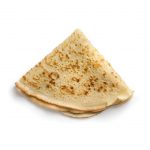 Print Recipe
French Crepes Mix
Try our authentic French Crepes Mix recipe by just adding milk and butter.
Ingredients
312

grams

Waffle Pantry Liege Waffle Mix

11 ounces

56

grams

Unsalted Butter

half a stick

800

milliliter

Milk

3.5 cups or 27 fl. ounces

3

Eggs
Instructions
Heat butter in milk over medium heat until butter is melted

Whisk Liege waffle (crepes mix) and eggs together in a bowl. Gradually add milk and buter mixture until combined.

Heat lightly oiled frying pan over medium to high heat. Scoop enough batter onto the pan to cover it in a thin layer. Tilt the pan in ircular motion to spread the batter evenly. Cook for about 2 minutes on one side until edges look brown. Loosen with spatula and flip, cooking the other side for the same duration.

Add your favorite sweet or savory toppings. Bonus Tip: Try our delicious Belgian Speculoos spread.
Feel free to share this with friends and family: