Biscuits are a crowdpleaser. Beautiful, butter-y clouds, eager to soak up gravies, jellies, butters. You've probably had biscuits in a variety of ways but we've developed a recipe to give your tastebuds something familiar and something new.
The magic of this recipe lies in Belgian pearl sugar.  The sugar pearls baked into the edges of the biscuit keep their beautiful shape and texture while the pearls inside the biscuit disappear into the whispers of sweetness, creating a perfect blend of tender and crunchy, sweet and salty. The biscuits are so delicious that we suggest making a double batch to ensure everyone at your table gets more than one.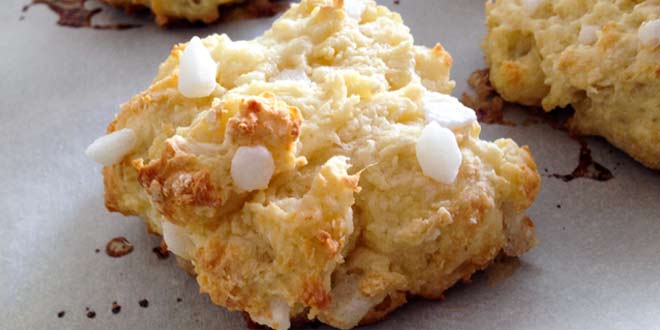 We also love how the recipe, adapted from America's Test Kitchen's take on this Southern classic, is quick to make. You'll have a batch of fresh baked biscuits at the table (15 minutes prep + 20 minutes bake and cooling time) in under an hour. Before we dive in, we have two tips. First, be gentle with the biscuit dough and, second, take care not to over bake these little beauties.
INGREDIENTS
2 cups French T45 flour
2 teaspoons baking powder
½ teaspoon baking soda
1 teaspoon salt
1/3 cup Belgian pearl sugar
1 stick chilled butter, cut into cubes
1 1/4 cup chilled buttermilk
Serving Size: 8 large biscuits
DIRECTIONS
1. Preheat oven to 475 degrees. Combine and mix dry ingredients thoroughly in a large bowl.
2. In a separate bowl, break up butter pieces into buttermilk with a fork. The mixture should take on a lumpy appearance.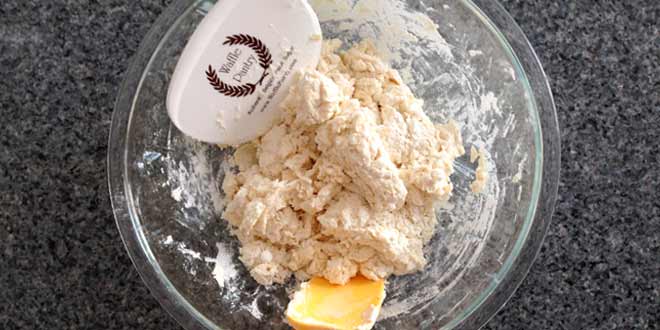 3. Add buttermilk and butter mixture to dry ingredients. Use care not to over mix and stop once dough begins to pull from the sides of the bowl.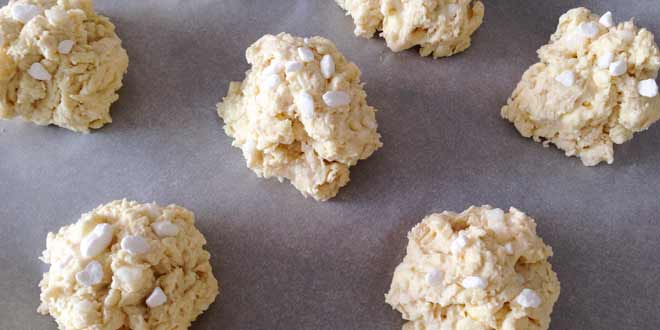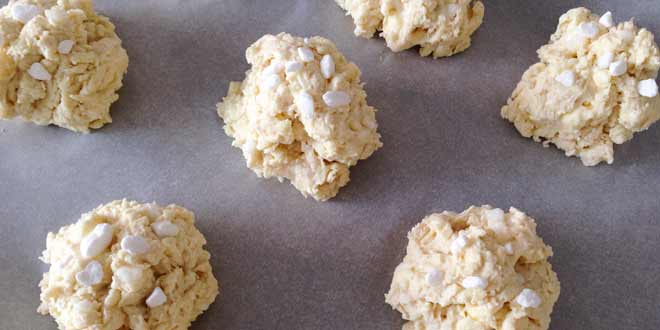 4. Scoop off pieces of dough with a large spoon onto a baking sheet lined with parchment paper.  Allow generous space (2 inches) between biscuits as the dough will expand a bit as it bakes. (Optional: Push a few Belgian sugar pearls onto the top of each biscuit.)
5. Place biscuits in the oven and allow to bake for 12-14 minutes. Keep an eye for biscuit tops to turn golden. Move biscuits to a cooling rack and allow 5 minutes to cool before eating. (Optional: Brush biscuit tops with melted butter once out of the oven.)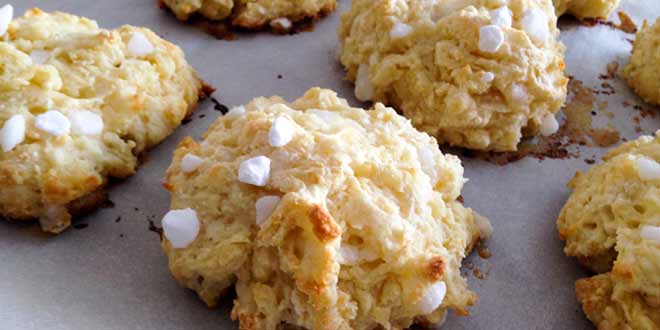 Allow biscuits to cool completely before storing. This is the most-liked biscuit recipe at Waffle Pantry but you can substitute our recipe with your own recipe, just substitute any sugar with 1/3 cup of Belgian pearl sugar.  Another alternative is to make the buttermilk biscuits and reserve the pearl sugar just to sprinkle on the edges of the dough drops right before baking for beautiful studded look. We know you'll love this recipe any way you make it!
Print Recipe
Buttermilk Drop Biscuits with Pearl Sugar
Biscuits are a crowdpleaser with their butter-y flavor and ultra tender texture. You've never had biscuits like these—something familiar with something new. We hope you enjoy our Buttermilk Drop Biscuits with Belgian Pearl Sugar.
Ingredients
2

cups

all-purpose flour

2

teaspoons

baking powder

½

teaspoon

baking soda

1

teaspoon

salt

1/3

cup

Belgian pearl sugar

1

stick chilled butter

cut into cubes

1 1/4

cup

chilled buttermilk
Instructions
Preheat oven to 475 degrees. Combine and mix dry ingredients thoroughly in a large bowl.

In a separate bowl, break up butter pieces into buttermilk with a fork. The mixture should take on a lumpy appearance.

Add buttermilk and butter mixture to dry ingredients. Use care not to over mix and stop mixing once dough begins to pull from the sides of the bowl.

Scoop off pieces of dough with a large spoon onto a baking sheet lined with parchment paper. Allow generous space (2 inches) between biscuits as the dough will expand a bit as it bakes. (Optional: Push a few Belgian sugar pearls onto the top of each biscuit.)

Place biscuits in the oven and allow to bake for 12-14 minutes. Keep an eye for the biscuit tops to turn slightly golden. Move biscuits to a cooling rack and allow 5 minutes to cool before eating. (Optional: Brush biscuit tops with melted butter once out of the oven.)
Feel free to share this with friends and family: