It's Waffle Pantry's third anniversary and we're thrilled to announce a brand new look for our Belgian sugar pearls. After months of work, it's finally time to introduce the new packaging for our premium Belgian pearl sugar, 16 oz.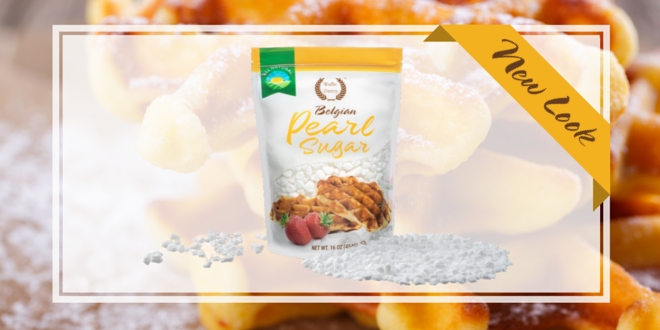 We're offering a celebratory special to honor this momentous occasion. Purchase a 6-pack of our Belgian pearl sugar and receive a complimentary bowl scraper and package of Lesaffre Gold SAF Instant Yeast. No coupon codes needed—just be sure to add the bowl scraper and yeast to your cart before checking out. Act soon as this offer ends Sunday, June 5, 2016 at 11:59pm PST.*
The new bags are gorgeous, resealable and now include our popular recipe for authentic Liege waffles printed right on the back for easy baking. Our pearl sugar remains the same—all natural, vegan-friendly, GMO-free and kosher certified. The bags now come in convenient 16-ounce portions to keep sugar pearls fresher longer. Purchasing a two-pack or six-pack of Belgian pearl sugar provide more savings and make gifting to friends and family easy.  Interested in saving on shipping? We recommend requesting Waffle Pantry Belgian pearl sugar at your local market or grocery store.
We are ecstatic about our new look. We hope you find joy in our top-quality pearl sugar and continue to enjoy using them in all your favorite recipes. Thank you for your continued support of Waffle Pantry. It's been our pleasure to connect with and serve you these three years. We look forward to many more together. From our pantry to yours!
*This promotion cannot be combined with any other offer or discount.
Feel free to share this with friends and family: