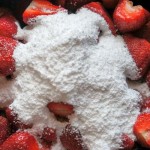 Print Recipe
Stewed Strawberries in Syrup
Enjoy this sweet and slightly tart concoction on top of a freshly baked waffle for your next brunch. The stewed strawberries can be served warm or slightly chilled. It's a wonderful addition to cheesecake, sweet loaves and other baked goods.
Wash strawberries and remove stems. Cut up strawberries. Those of us in the Waffle Pantry kitchen like the berries in large pieces but you can slice them into smaller pieces if you wish.

Combine strawberries and pearl sugar powder into a pan and allow the mixture to sit for 3 hours.

Cook at medium heat for about 25-30 minutes or until the mixture is at your desired texture and consistency.