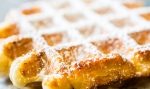 Print Recipe
Belgian Liege Waffles
Golden in color and delectable in taste, Liege waffles are out of this world. Here's how to bake them at home with a surprisingly simple recipe. Your family and friends will swoon!
Gently heat the milk to lukewarm temperature. Pour milk into a bowl and add yeast. Allow several minutes for the yeast to dissolve.

Next, add eggs and vanilla extract to the yeast mixture. Then add flour, brown sugar, cinnamon and salt in large bowl. Mix gently.

Bring butter to room temperature and add to dough. The dough should have a sticky texture.

Cover the dough and let it rest for 2 to 3 hours. This will allow the dough's volume to double.

Once risen, gently mix to allow the air to be released from within the dough. Add Belgian pearl sugar to the dough.

Divide the dough into 12 roughly palm-sized balls and allow them to rest for 15 minutes.

Pre-heat waffle iron. Once heated, place each individual dough ball in its baking area and close lid. Bake time should be approximately 4 minutes. Monitor for doneness and preferred golden color.